Broccoli coffee: scientists create new way to eat more greens
CSIRO and agriculture group Hort Innovation turn 'ugly' bunches into a powder for drinks, soup and baked goods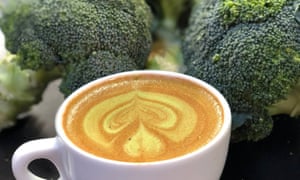 Those who don't fancy eating broccoli can still reap its health benefits thanks to a newly developed powder version that be stirred into smoothies, baked goods and even coffee.
Bunches of broccoli deemed too imperfect in appearance to be stocked in shops have been ground up and turned into a powder by Australian government science agency CSIRO and agriculture group Hort Innovation.
Every two tablespoons of powder contains about one serve of broccoli, which is a good source dietary fibre, vitamin B6, vitamin E, and manganese.
One Melbourne cafe has started experimenting with the powder by stirring it into coffees.
The chief executive of Hort Innovation, John Lloyd, says the powder is also ideal for smoothies, soups and baked goods.
"Research shows the average Australian is still not eating the recommended daily intake of vegetables a day, and options such as broccoli powder will help address this," he said on Wednesday.
The powder and a range of snacks are being developed as part of a research project that aims to reduce vegetable waste by creating healthy food products from "ugly" produce.
A CSIRO survey last year found four out of five adults weren't eating enough fruit and vegetables to meet national dietary guidelines.
The CSIRO's lead researcher on the broccoli powder project, Mary Ann Augustin, said the next step was to develop the powder further and test it among a wider group of consumers.
"The powders are an option for farmers who want to produce value-added vegetable ingredients for the lucrative functional food markets," Augustin said.
"The CSIRO team and Hort Innovation are discussing potential commercial applications with produce growers and grower groups across Australia who are interested in getting the powder on the market."